C3-Wireless Bluetooth Low Energy Beacon Reader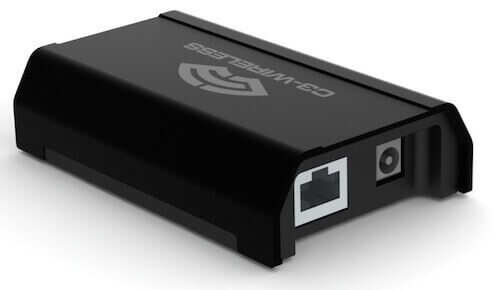 C3-Wireless is excited to introduce a ground-breaking approach to Bluetooth Low Energy. The BTLE Beacon Reader turns Bluetooth platform design upside down.
Most current solutions combine beacons placed in a fix location with a BTLE-aware app on a mobile smartphone or tablet. As the mobile device comes within range of the beacon, the app triggers an event either locally on the device or sends data to a cloud-based analytics server.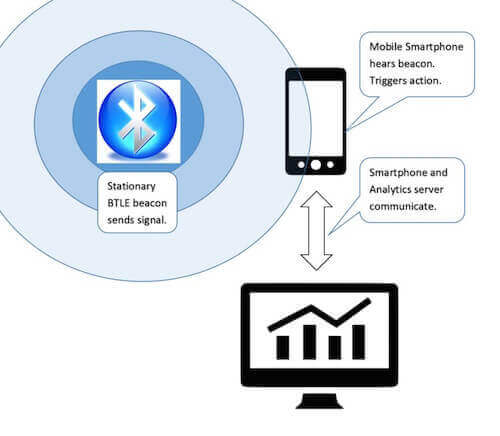 This solution is appropriate for certain applications, however, the industry has discovered many limitations with this design.
Typical challenges include:
End-user must install a BTLE-capable application
End-user must accept location-tracking alert
Mobile device must have Bluetooth turned on
Mobile device must be power on
Mobile device must have Cellular or Wi-Fi turned on to transmit data or triggered event to analytics server
Beacons are susceptible to being hijacked
The Beacon Reader addresses each of these issues by redesigning how BTLE is implemented. Instead of using a stationary, battery-powered beacon relying on mobile smartphones to relay information to an analytics server, the always-on Beacon Reader becomes the stationary device.
The Beacon Reader can hear any BTLE-compatible beacon, including Smartphones acting as beacons, and transmit that information back to an analytics server. The analytics server can then trigger actions based on pre-defined events, including sending push notifications to the smartphone.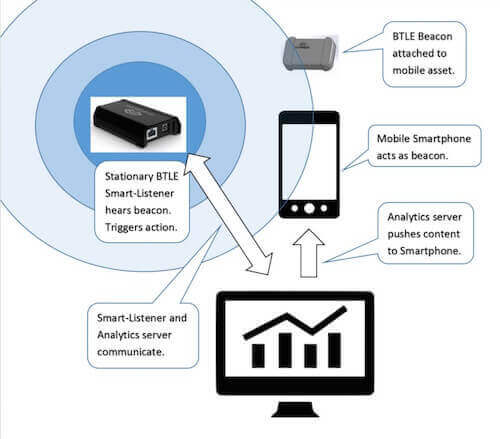 Integrators can now track mobile assets without the need for end-user interaction. Just attach any BTLE-compatible beacon to the mobile asset and configure the analytics server behavior.
Mobile app developers can easily integrate BTLE functionality into their software using the Beacon Reader's open API calls. Configuring the phone to act as a beacon instead of listening for beacons requires less power and data usage, and can be configured as a secure, proprietary system.
C3-Wireless BTLE Beacon Reader Features and Benefits
Works with any BTLE-standard beacon, including iBeacon, Eddystone, or Proprietary beacons
Powered through a 5V barrel connector or 802.11af standard Power-over-Ethernet (PoE) when mounting on drop-ceilings or hard-to-reach areas.
Communicates to analytics server through VPN-secured wired (Ethernet) or wireless (Wi-Fi) connectivity.
Features external RP-SMA antenna connectors to allow for use with different directional or omnidirectional antennas.
Uses open APIs for 3rd-party application integration, allowing use with C3-Wireless or 3rd-Party content management systems and analytics servers.
Can push-button pair with any standard Bluetooth device for fast and easy setup.
Can scale to read hundreds and up to thousands of beacons per Beacon Reader.
Can simultaneously act as both a beacon and beacon reader if desired for maximum flexibility.
When configured for listen-only mode, makes hijacking impossible, so the most secure BTLE solution available.
Uses Layer 3 connectivity to local or cloud-based analytics servers.
Can be remotely and centrally managed.
The Anti-Piggyback, Anti-Hijack Solution
Beacon piggybacking/hijacking is the act of listening for beacons that other people have placed. Once a beacon's unique identifier (UUID) is known, it can be used in other applications for unintended purposes. This allows physical competitors to use the data to target retailers and their customers. For example, "Retailer B" can read "Retailer A's" beacons and lure "User 1" away with discounts.
See an example here:
Sites like WikiBeacon have mapped out "naked beacons," or those that transmit their identity in the open, with close to 300,000 deployed beacons already shared.
To address this issue, many beacon developers have added different security methods to their beacons, with the idea that only the intended application would be able to know the beacon's unique identifier. However, these measures have often shown to either break cross-platform applications (e.g. may work on Apple iPhones but not on Android phones) or been ineffective in preventing hackers from discovering the beacon's unique identifier.
For example, this August 14, 2015 Make article on hackable beacons highlights the current real-world lack of beacon security from leading vendor beacons.
Fortunately, the C3-Wireless Beacon Reader approach offers the same capability and functionality as the traditional beacon and Smartphone solution, but adds the ability to prevent hijacking. Rather than using a stationary beacon with a known location that transmits a unique identifier, the Beacon Reader reads beacon transmissions from the end-user's Smartphone, transmitted by the vendor's application.
The Beacon Reader can hear all beacons, but choose to act on only the designated, "interesting" beacons, all in a secure way that doesn't break the Bluetooth Low Energy standard. Furthermore, the app developer can add proprietary information for enhanced functionality and security, all while leaving hackers nothing on the Beacon Reader to capture and duplicate.
If beacon hijacking is a concern, the C3-Wireless Beacon Reader is the solution. Contact C3-Wireless to find out more information.