Sub-room level (bed/bay/chair) accuracy. Updates in seconds. Proximity only, no triangulation required. Low-cost hardware and batteries. Implement in hours\days, not weeks with no special skillsets required.
Anyone that has compared today's RTLS technologies knows that BLE has nearly every advantage over RFID, Wi-Fi, UWB, IR, UltraSound, etc. except one. Accuracy. BLE's low power is not well-suited to use with triangulation, which at best is difficult to design for and implement correctly. And until SmartRelay, using proximity would get you zone level accuracy or up to room level if you added a BLE gateway to every room.
Download a comparison of different RTLS technologies below.
Download
---
Our patent pending SmartRelay BLE technology is a game-changer because customer's can now get sub-room level accuracy (bed/bay/chair) using simple proximity while only requiring a minimal number of BLE gateways.
For an in-depth technical brief on how SmartRelay works, download the information below.
Download
---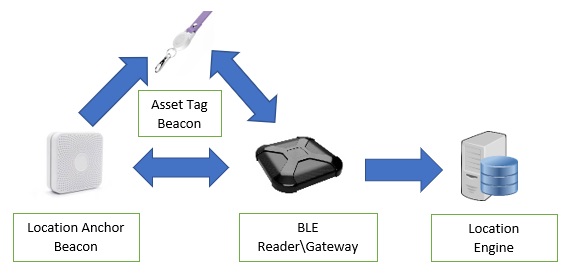 At a high level, the SmartRelay platform consists of three main hardware components. A BLE Gateway, a Location Anchor (a static iBeacon or Secure Beacon geo-referenced in a location engine) and an asset tag (worn by a person or placed on a thing) running SmartRelay firmware.
Traditional BLE Gateways (ours included) are geo-referenced to a location engine and use RSSI to calculate the distance between a BLE beacon (iBeacon or otherwise) and the Gateway to estimate in proximity where the beacon is located somewhere within the Gateway's cell. Our Gateways use advanced intelligence to provide the best calculations and options for filtering, etc. available. Our BLE Gateways can also process proprietary BLE sensor beacons, where calculating distance is not needed.
While the SmartRelay platform does require BLE Gateways to transmit data to a location engine or analytics platform, just like with BLE sensor beacons, it does not take into account the distance between an asset tag beacon and the Gateway. Instead, the asset tag determines the closest Location Anchor (stationary iBeacon) and reports this information to the location engine through the BLE Gateway. The BLE Gateway only needs to hear the BLE advertisement coming from the asset tag.
---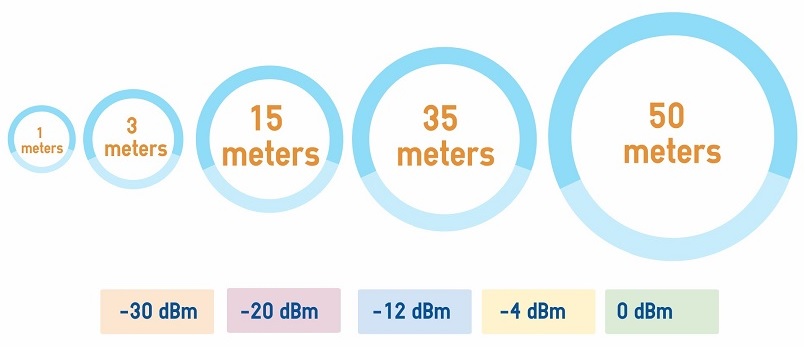 Location Anchors are stationary iBeacons (or stationary Secure iBeacons) that are physically placed in a room or part of a room (e.g bed/bay/chair) and then geo-referenced in the location engine (e.g. Location Anchor 1 is in Room 103, Bed 2). A location anchor can have a large cell (zone) that can, for example, cover an entire office area, or can have a small cell (microzone) covering a part of a room. Each area is sometimes known as a Point of Interest (PoI) and a venue can have as many PoIs as desired.
Location Anchors are low cost, can run for years on batteries, and can be installed in minutes without any special skillset or tools. Just determine how many PoIs are desired and add one Location Anchor per PoI. The more PoIs, the more accurate the system.
---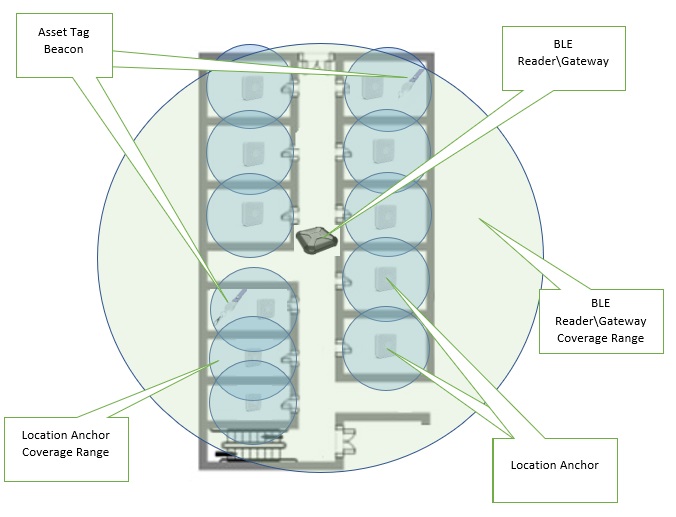 SmartRelay Location Anchors work like BLE beacons do in a Wayfinding App. In fact, The SmartRelay platform can also use beacons already deployed for Wayfinding. Asset tags running SmartRelay firmware act similar to a smartphone identifying its location based on its proximity to a BLE beacon.
The SmartRelay firmware is similar to iBeacon or EddyStone or other proprietary BLE firmware in that it can run on just about any beacon hardware that conforms to the BLE standard. Note: While SmartRelay can run on nearly any BLE beacon hardware, depending on use case, some beacons may not be appropriate for use in the SmartRelay platform. In general, use beacons CR2032 batteries or larger.
The asset tag determines which Location Anchor is the closest and transmits that information in a standard BLE advertisement packet through the BLE Gateway to the location engine. No complicated triangulation is required. No special hardware is required. And because the asset tag performs the location calculation, the work is distributed so the solution scales without requiring massive computing resources on-premises to accurately determine location.
All information can be sent to the C3-Wireless Location Engine or directly to a partner or customer's own location engine. If using the C3-Wireless Location Engine, it can be installed as a cloud instance or on-premises. An open API system is provided to make integration into front-end applications easy.
SmartRelay RTLS platforms are less expensive and easier to install than competing systems, offer sub-room level accuracy and can update in seconds to track people and things, and backend location engine logic is simple to integrate into front-end platforms.